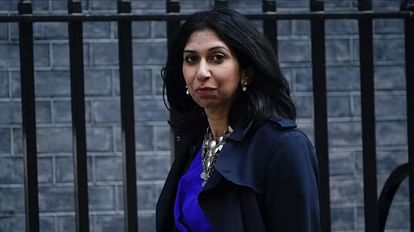 Britain's Home Secretary Suella Braverman (File)
– Photo: Social Media
Expansion
Britain's Home Secretary Suella Braverman is on a collision course with the country's Department of Education. In fact, Braverman is considering a plan to cut the length of stay of foreign students under the visa route after studies. This information has been given in the country's media reports on Wednesday.
The new graduate visa route is expected to be cut under Braverman's proposed review. According to a report in 'The Times' newspaper, Indian-origin Home Minister Braverman has prepared a plan to 'reform' the graduate visa route. Under the scheme, students would have to secure a skilled job and obtain a work visa or leave the UK after six months.
The report says that the UK's Department for Education (DfE) is trying to block these changes because they are concerned that it will harm the attractiveness of international students to the UK.
A government source who supported Braverman's plan said student visas were increasingly being used by students to take shorter courses at less respected universities. It is being used as a backdoor immigration route, the newspaper quoted a source as saying.
According to the latest figures from the Office for National Statistics (ONS), Indians overtook the Chinese as the largest group of overseas students last year and dominated the new graduate visa route launched in July 2021, given Visa had a 41 percent share.
Figures published last week showed there were 680,000 overseas students in the UK. The government's 2019 higher education policy included a target of 600,000 students by 2030, which was met last year itself. Another proposal under consideration would be to allow foreign students to bring dependent family members with them for two years only when they are pursuing research-based courses like PhD, or post graduation.

[
#Student #Visa #Preparing #change #visa #rules #foreign #students #Britain #Education #Department #opposes #Suella #Braverman #Mulls #Cut #Post #Study #Student #Visa #Stay #Report