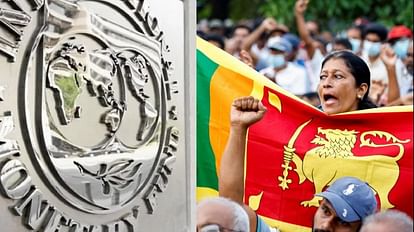 imf sri lanka
– Photo : Agency (File Photo)
Expansion
Despite giving assurances, China has not yet sent a formal letter to the International Monetary Fund (IMF) regarding debt relief to Sri Lanka. Such an indication came on Monday, when an IMF spokesperson mentioned receiving only India's letter regarding debt relief. Whereas earlier it was said that both India and China have sent debt relief letters to the IMF. With the statement of the IMF, uneasiness is being seen in the circles of power here.
Last year, the International Monetary Fund sanctioned a loan of $ 2.9 billion to Sri Lanka on the condition that to get this amount, Sri Lanka would have to get assurances from its old creditors for relief in the debt repayment deadline. Last week, India became the first country to give such an assurance to Sri Lanka. After that the news came that China has also assured to give relief to him.
IMF spokesperson said- 'We confirm that India has indicated to the IMF management that it is committed to providing financial/debt relief, so that Sri Lanka's public debt can be serviced before loans under the IMF assistance program are available. Can be sure of being safe. We welcome India's commitment.
Experts here say that China has given an initial indication of giving debt relief to Sri Lanka. But this is not the kind of assurance that the IMF is looking for. That is why the IMF spokesperson did not mention China while making a statement about it. A high-ranking official related to the ongoing talks with China has told that more talks will have to be held with China now.
According to experts, the IMF expects the country concerned to send its assurance directly to it. That is, China will have to write a letter directly to the IMF and tell that it is ready to give relief to Sri Lanka. India had sent a similar letter to him. Meanwhile, Sri Lanka is in talks with its other bilateral creditors to get similar assurances.
An official told the website economynext.com that once assurances are received from all the parties, then the IMF officials will put forward their proposal for loan to Sri Lanka before the IMF's executive board. Sri Lanka will be able to get the loan amount only after getting the approval of the board.
Japan and the Paris Club are also understood to have agreed to grant debt relief to Sri Lanka. But he has not yet sent his letter to the IMF. According to Sri Lankan officials, both these parties have a long experience in dealing with the debt crisis. Therefore, there will not be much difficulty in completing the formalities of getting relief from them.
But some observers are of the opinion that both these sides are eyeing China. Only after sending the letter from China, they will send the formal letter regarding debt relief to the IMF. Sri Lankan officials claim that they have completed the steps that the IMF had imposed to restore financial stability within the country. That's why now the whole thing has come to rest on China.
[
#Sri #Lanka #China #Sri #Lanka #limbo #issue #debt #relief #China #Giving #Relief #Issue #Debt #Relief #Sri #Lanka