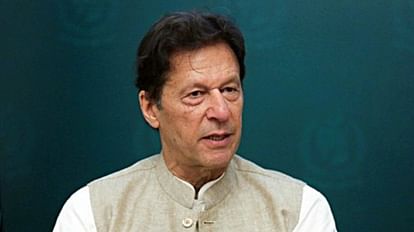 Former Prime Minister of Pakistan Imran Khan.
Photo: ANI
Expansion
The Election Commission of Pakistan has proposed to hold assembly elections in Punjab and Khyber Pakhtunkhwa provinces in April. These provinces were ruled by former Prime Minister Imran Khan's Pakistan Tehreek-e-Insaf (PTI) party, but the PTI dissolved the provincial assemblies to demand immediate general elections in the country. However, the Pak government has refused to budge and is adamant on holding the elections on time after August this year.
The Pakistan Election Commission on Wednesday suggested that assembly elections should be held in Punjab between April 9 and 13 and in Khyber Pakhtunkhwa between April 15 and 17.
After the dissolution of the legislatures, caretaker governments were appointed in the two provinces. According to the rule, elections must be held within 90 days after the dissolution of assemblies, so the Election Commission of Pakistan announced the dates for the provincial elections. Syed Mohsin Raza Naqvi was sworn in as the caretaker Chief Minister of Punjab on 22 January, while Mohammad Azam Khan was sworn in as the Chief Executive of Khyber Pakhtunkhwa on 21 January.
The governor will announce the dates of the final elections

The Khyber Pakhtunkhwa Assembly was dissolved on 14 January and the Punjab Assembly on 18 January. The Election Commission has written to the principal secretaries of the governors of the two provinces and cited Article 224 of the Constitution of Pakistan, which provides for holding elections within 90 days of dissolution of the assembly. However, the final election dates will be announced by the respective governors.
[
#Pakistan #Shock #Imran #Khan #proposal #hold #assembly #elections #Punjab #Khyber #Pakhtunkhwa #April