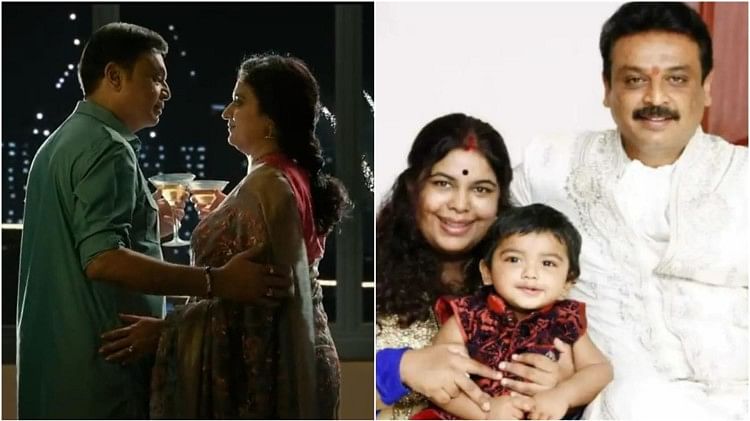 Naresh Babu, Pavitra Lokesh, Ramya Raghupathi
– Photo: Social Media
Expansion
Kannada actor Vijay Krishna Naresh is in limelight these days. On the occasion of New Year, the actor had shared the good news with the fans that he is soon going to tie the knot with Pavitra Lokesh. Naresh Babu, brother of Mahesh Babu, gave this information by sharing a video, in which he announces his marriage while lip-locking Pavitra along with congratulating her for the new year. Some people were congratulating the actor, while some were also trolling him for his fourth marriage. At the same time, now the reaction of the actor's third wife Ramya Raghupati has come to the fore.
Actually, actor Naresh shared a video on the occasion of New Year. In the video, Naresh and Pavitra can be seen cutting the cake and welcoming the new year. Only then do the fireworks happen and the two liplock. After this it is written that marriage is taking place soon. It went viral as soon as the actor shared the video on social media. Now his third wife Ramya Raghupati has objected to this.
Tunisha Sharma Death Case: Sheezan Khan's bail plea adjourned, now next hearing will be on January 9
New Year ✨

New Beginnings 💖

Need all your blessings 🙏

From us to all of you #HappyNewYear

Mee #PavitraNaresh pic.twitter.com/JiEbWY4qTQ

— HE Dr Naresh VK actor (@ItsActorNaresh) December 31, 2022
Ramya Raghupathi said during a recent interview, 'How can he stoop so low? How can he get married for the fourth time? I will not let them do this marriage. We are not divorced yet and he has already been married thrice. We also have a child. At the same time, in July last year, Naresh and Pavitra were caught in the lift leaving a hotel. During this, she became so angry that she started beating both of them with slippers. The video of this incident also went viral on social media.

Rohit Shetty: Rohit Shetty injured during the shooting of web series, underwent hand surgery
On the other hand, if reports are to be believed, the actor also accused Ramya of having an extra-marital affair. He said that Ramya was in a relationship with the late actor Krishna. However, Ramya had denied these allegations. On the other hand, talking about Pavitra, she is about to get married for the second time with Naresh. Pavitra has three children from her first marriage. However, the date of marriage of Naresh and Pavitra has not been announced yet.

Ajay Devgn: Ajay Devgan's nephew Aman ready to step into Bollywood, will be seen in action adventure film


[
#Nareshpavitra #liplock #video #actor #ready #fourth #marriage #wife #angry #happen #Mahesh #Babu #Brother #Naresh #Babu #Pavitra #Lokesh #Kissing #Video #Viral