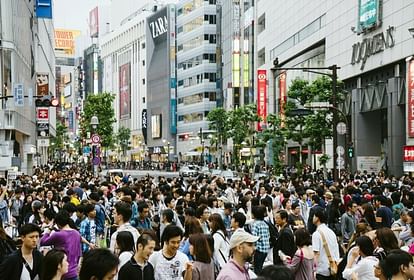 population of japan
– photo: istock
Expansion
Due to the declining birth rate in the country, it is becoming increasingly difficult for Japan to continue social activities. This warning has been given by the Prime Minister of Japan, Fumio Kishida. In the country's Parliament Diet, he said- 'We are going to adopt as an important policy the encouragement to produce more children for the purpose of making the country's economy and society sustainable and maintaining harmony in them.'
Kishida made this announcement in his opening speech at the opening of the Diet session. During this, he also discussed policies related to increasing the country's defense expenditure, increasing diplomatic relations with countries with emerging economies and encouraging start-ups. But what caught the most attention was his announcement of incentives for having children. This issue has been given the most attention in the Japanese media.
Kishida also made the issue the central theme of his 45-minute speech on Monday. Recently it was reported that there was a huge decline in the number of births in the country last year. Less than eight lakh children were born in Japan last year, which is a record. According to the latest figures, on January 1 this year, the population of Japan was 12 crore 47 lakh 70 thousand. This is 0.43 percent less than the population of January 1, 2022.
In the current population of Japan, the number of people over 65 years of age is 29 percent. While the number of children of zero to 14 years of age is only 11.6 percent. Thus, it is estimated that the population of Japan will decline further in the coming years. The data released this year has caused deep concern among the country's policy makers. According to experts, the latest population trends mean that the number of workers in Japan will decrease, while the number of elderly people receiving social security will increase.
Critics say that Prime Minister Kishida expressed concern in his speech, but his announcement of incentives for having children is insufficient. Kishida talked about three types of incentives in June last year. Under this, there was talk of providing financial assistance, expanding child rearing services and improving the general working style. Then she said her government would double the child care budget.
Kishida said- 'I will implement unprecedented measures to stop the decline in the birth rate. It will encourage everyone to play a role in parenting, regardless of age or gender.' She said her government would listen closely to suggestions from parents, young people and child care service providers.
But what exactly would be done for these purposes, he did not say. According to a report on the website NikkeiAsia.com, the popularity of Kishida has dropped significantly. The reason for this is the rising dissatisfaction with inflation and the defense policy of his government. It is unlikely that his announcement on population will reverse this trend.
[
#Japan #Japans #social #fabric #disintegrating #due #falling #child #birth #rate #Difficult #Japan #Continue #Social #Activities #Child #Birth #Rate #Decline